Sales– Arihant ERP

Arihant AI | Sales – Arihant ERP Quotation Template Builder
Easily Create Product Specific Quotation using Drag & Drop builder in seconds. Create Quotation from CRM
Create quick Quotation from Lead / Opportunity (CRM). Pricelists
Sell in multiple currencies based on country groups with dynamic pricing rules. Order-Specific Routes
Configure product specific delivery routes in sales order : dropshipping, replenish on order, etc.Share with Customers Share with Customers
Send Quotation / Sales Order / Proforma over Email / WhatsApp Get Paid Online
Allow your customers to Review, Sign and Pay your Quotations online using payment gateways. Shipping Cost
Compute shipping costs based on multiple variables (weight, volume quantity, margin, delivery address, etc Upselling & Cross Selling
Sell more by proposing additional products, applying closing triggers, discounts, etc. Customer Portal
Provide customers with access to an online portal to view their quotes, sales orders, and track the status of deliveries orders, customer activities in real-time.
Smooth Sales Process for Enterprises
All Orders in One Place
Manage B2B, B2C, Point Of Sale (Retail), eCommerce Orders all in one place with on-screen reporting.

Products with Attributes
Create and configure products with multiple attributes or variants such as size, color, finish, etc.

Document Management
Attach Contracts, Documents, log comments, send message to team from the interface.

Sales & Revenue Tracking
Track Sales & revenues from multiple companies in a single dashboard / report.

ARIHANT ERP - CLOUD BASED BUSINESS SOLUTIONS
Sales Module Workflow
Create Product specific Quotation Templates Marketing Team creates a Quotation from a Template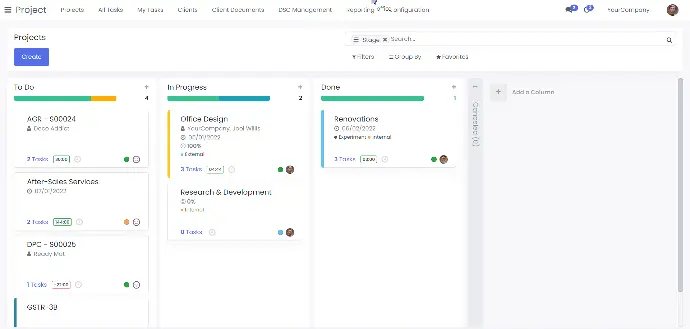 Assigns Quotation to Sales Team / Person Send Quotation / Pro-forma over Email / WhatsApp Track Client Activities and schedule follow ups
Sales Manager confirms Orders and Schedule Delivery based on product type Analyze and track KPIs in personalized Dashboard ARIHANT ERP
Want to see your Business Management Solution in action?
SEE LIVE DEMO